CAMRA SO – Craft Beer News and Events, Spring 2020
Hello CAMRA SO members!

Spring is in the air, and we are happy that our calendar is starting to fill up with spring craft beer events. Read on for more details and links to events, branch updates, and local craft beer news. 2020 is off to a great start here in the craft beer world, as Penticton was named by the Lonely Planet as Canada's Craft Beer Capital.
---
Thank you to everyone that attended our recent CAMRA SO AGM. It was awesome to have so many people attend and to hear the excitement for what we have done and what we are doing going forward. Thanks to Cannery Brewing for hosting, putting out some great eats, and for the special beer. Thanks to Harpreet for running our election. And big huge thanks to our 2020 CAMRA Executive Team!
2020 CAMRA Executive Team:
President: Kim Lawton
Vice President: Aldo Castagna
Treasurer: Derrick Webb
Secretary: Lory Johnston
Membership: Jenn Evans
Home Brewing/Education Liaison: Michelle Gowing
Communications Co-Chairs: Janice McDowell and Emanuel Sequeira
Webmaster: Eric Harding
Events Committee: Stuart Knott, Jennifer Monai, Adrian Smits and Jon Cote


---
March 14 – Road trip
Previous road trips have been very popular for good reasons, and this 2020 edition will provide a great opportunity to check out an assortment of different breweries, try new beers and get to know other CAMRA members. Breweries "on tap" for this trip are Kettle River, Vice & Virtue, Jackknife, Copper Brewing and Barn Owl.
Leave the driving to a pro and hurry to obtain your tickets as they're going fast!
Reserve your ticket
---
March 21 – CAMRA BC AGM
If you find yourself out Vancouver way on Saturday, March 21st, head to Andrina Brewing for the CAMRA BC AGM (2 – 4 pm). All active CAMRA members are welcome to attend and vote.
Location details:1507 Powell St, Vancouver, BC V5L 5C3
---
March 26 – CAMRA Beer Education
Once a month, generally on the fourth Thursday of the month, join Michelle Gowing, our Education/Home Brewing Liaison, for Beer Education sessions. The next Beer Education night will be March 26 at Cannery Brewing. Each month, there is a focus on a different beer style. Following that theme, bring a sample of your homebrewed beer or a commercially brewed beer to share and learn more about that style.
---
Thursday, April 16 at Bad Tattoo – Joe Wiebe Seminar
Spend the evening with Joe Wiebe as he presents "25 Years of Beer" to celebrate this year's 25th anniversay of Fest of Ale. When Fest of Ale started in 1996 there were about 25 craft breweries in BC – now there are over 200! Trying to keep track of them all is Joe Wiebe, the Thirsty Writer, the author of Craft Beer Revolution: The Insider's Guide to B.C. Breweries, and a co-founder of Victoria Beer Week and the BC Ale Trail. This year's annual pre-Fest beer seminar celebrates the Fest of Ale's 25th anniversary with a look back at how the craft beer industry has changed and grown since the mid-1990s.
Joe will present an award-winning beer from each 5-year period along with something new that might be a winner this year or in the near future. As always, the evening will be fun and informative — the perfect way to kick off Fest-of-Ale Weekend! This seminar includes taster-sized samples of six different beers. 19+ only.
Autographed copies of Joe's book are also available for sale in advance or at the event.
Tickets: $30 or CAMRA members can save $5 and pay $25 by using code CAMRA.
Get tickets here
---
April 17 & 18 – Okanagan Fest of Ale
Wow – it's the 25th annual Okanagan Fest of Ale!! This year changes to a new expanded format located in both the Penticton Trade & Convention Centre & the SOEC. John Cruickshank, Okanagan Fest of Ale Society President advised "This year, there will be over 25% more breweries and cideries than last year with 90 beverage vendors at the biggest beer festival the Okanagan has ever seen. Of the participating breweries, many will be offering new seasonal releases, collaborations and beers created especially for the festival. Guests of the fest can also look forward to fabulous food, with many restaurateurs incorporating a craft inspired twist on their dish, fun photo booths, onsite pop-up shops and entertainment and great live music in both the SOEC and the PTCC. The Best Team Costume Contest is back and will run over both days with the friendly folks from SUN FM/EZ Rock onsite and camera ready. So, dust off your best 90s gear and join the Fest of Ale for prizes and bragging rights."
Tasting tokens are $2 for a 4 oz. taster and can also be used in multiples for onsite eats.

Great news for current CAMRA SO members
In addition to the 2-day festival that we know and love, we're excited to confirm CAMRA SO members are invited to attend the Industry Event, held Friday, April 17th from 1-3 pm. As we get closer, we'll get you more details on how to RSVP for your spot.
Important to remember: In order to attend the industry event you'll need to have both:
a valid Fest of Ale ticket for either day, and
your valid CAMRA SO membership card.
Ticket costs for Fest of Ale: Single Day $23, Weekend Pass $42
Sip & Stay packages are also available for out-of-town visitors!
Click here to buy your tickets now.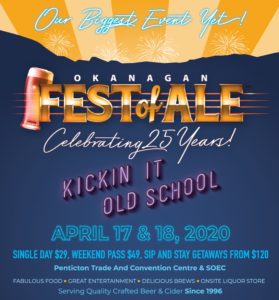 ---
Saturday, April 18 – Murderers Row at the Station Public House
Immediately following Fest of Ale, this popular event brings together 12 BC craft breweries and an awesome selection of casks to enjoy!
Tickets are on sale now, available at The Station Public House or call 250-493-3388 to reserve your tickets by phone. This event typically sells out every year, so don't delay!
See the facebook event page for the latest updates.
---
Penticton Beer Run – Saturday, June 13
Individual and team registrations are now open for the 4th annual Penticton Beer Run. Organized by Hoodoo Adventures (a CAMRA SO business partner) this year's run will be even bigger than last year, with a few new surprises.
The Beer Run includes a 10K walk/run with tastings from Cannery Brewing, Bad Tattoo, Tin Whistle, Barley Mill, Highway 97, Neighborhood, Slackwater and Firehall Breweries, Smugglers Smokehouse, Patio Burger and Cobb's Bakery! The event starts off at Hwy 97 Brewery including your first taste of the local micro-brew scene. From there you will run down Lakeshore Drive following Penticton's Ale trail and then down the KVR past 7 more breweries and 3 eateries before finishing with live music, more beer and great eats at D'Angelo Estate. What a way to spend the day!
Event Pricing:
Registration is $75 until March 31, then increases April 1- June to $85.
Includes: Shuttle, run, tastings, a branded Grunt (32oz refillable glass beer container), a beer at the finish line.
Click here to register now. Use promo code CAMRA20 for a special membership benefit.

We would like to form a CAMRA SO team, so please contact Aldo at vp@camraso.ca if you are interested in being a part of the team.

---
We are looking for volunteers to staff the CAMRA SO booth at Okanagan Fest of Ale for two hour shifts on Friday, April 17, from 4-9 pm and Saturday, April 18 from 12-6 pm. You get a pass to the festival in exchange. Contact Lory to volunteer.
---
Membership Benefit Update
New! Slackwater has a new offer for current CAMRA members – $10 for regular growler fills.
Link to see a complete list of membership benefits.
---
Have an idea for an event? Have a question or suggestion for our team? Want to give feedback about a previous event? Want to chat about beer? Our executive team is available. Contact us by email:

Kim: President – pres@camraso.ca
Aldo: Vice President – vp@camraso.ca
Jenn: Membership – membership@camraso.ca
Michelle: Home Brewing Liasion – education@camraso.ca
Lory: Secretary – secretary@camraso.ca
Derrick: Treasurer – treasurer@camraso.ca
Events Committee (Adrian, Jennifer, Jon and Stuart) –events@camraso.ca
Communications (Janice and Emanuel) – communications@camraso.ca

We are always looking for more volunteers to help at our events. If you don't have time to commit to being an executive member, please consider being an event volunteer. Not only will you have a ton of fun, but there is a high likelihood of beer-related perks involved. Contact Kim if you are interested in being on our volunteer list.
---
MEMBERSHIP

Membership across BC is made up of over 1300 individuals. Member activities include beer tastings, brewery tours, seminars & more. CAMRA members are eager to apply their talents and experience to promoting widespread public appreciation of the many "real beers" that have become available in recent years.

Join or renew your membership online
---
Why Join CAMRA SO?
You have a love of craft beer and see the value of supporting the craft beer industry
Your membership in CAMRA SO provides you with the opportunity to join a community of like-minded craft beer lovers and help campaign to protect the rights and needs of craft beer consumers
You enjoy the opportunity to attend craft beer events (some will offer CAMRA SO discounted rates, special access or advance ticket purchases)
You can participate in CAMRA SO member-only organized, brewery tours, meet the brewer events, craft ale pub visits, out-of-town road trips and tastings, cask events etc.
Access to a number of CAMRA SO member benefits courtesy of our local participating businesses
Keep up-to-date on beer-related activities, cask events, and new craft beer releases throughout the South Okanagan via our member newsletter and Facebook page
Communication of and opportunity to participate in other CAMRA BC branch events
For more information – contact our Membership Director at membership@camraso.ca

To join – visit our Membership page